Water can be both a global and a local challenge at the same time. The drinking water situation at a local level can be as ironic as having a freshwater source at a hand reach but loaded with pathogens and harmful chemicals, so is just like having not a drop at all.
Take for example Brazil, home of the Amazon forest and river, rich in freshwater sources, but where 3 million people still lack access to safe water[1]. Africa is another similar case; despite hosting the Nile and the Congo rivers still a big part of the population is deprived of this basic service. Thus, lack of access to drinking water is not about resource availability alone, but also about counting on the right means to ensure an accessible, affordable, and high-quality supply for all.
The situation around the world
According to the WHO/UNICEF Joint Monitoring Programme, in 2015, around 663 million people still drank water from unprotected sources, half of which lived in sub-Saharan Africa, yet Figure 1 shows that the situation replicates in some areas of Asia and Latina America.
From that group using unimproved drinking water sources, 8 of every 10 live in rural areas, and in countries like Angola, Kenya, Madagascar, Papua New Guinea, Sierra Leone, South Sudan, and Tajikistan, at least one in five people still rely on unsafe surface water sources for drinking purposes[2].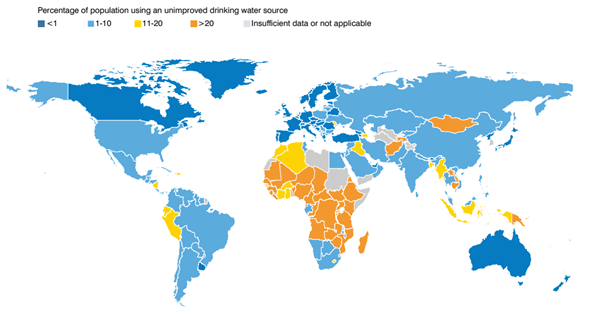 Figure 1:Distribution of the world population still using an unimproved drinking water source in 2015[2].
However, using an unimproved water source is not a case found only in rural areas. Although to a lesser extent, like shown in Figure 2, people living in urban centers do not escape from relying on unimproved water resources to cover the needs. Although in urban areas it is less likely that water is located at a three-hour away foot journey, like in the case of rural Ethiopia.

Figure 2: Comparison of drinking water accessibility for the urban and rural environment[2].
Centralized systems do the job but…
Whereas centralized systems can provide drinking water for part of the population, their application sometimes results economically unfeasible at smaller scales. In underdeveloped and developing countries, the deployment of centralized systems in urbanized areas results a little more complicated, among other reasons, the high investment is not easily affordable by local governments without external support. In that case, the population is left with the option of purchasing water from tankers or water vendors to cover their needs.
Decentralized systems can cope with this challenge. They can provide water to the unattended sector without large investments or big infrastructure, while also being able to use any source available at hand, treat it properly, and turning into an improved and safe water source.
Drinking water affordability
The United Nations defines water as economically affordable if the direct and indirect costs associated with it do not restrict a person from accessing other basic rights, like food or shelter [3]. But, as shown in Figure 3 water affordability can vary from one country to the other.
Figure 3: Comparison of expenditure on water services per household in different countries[2]
The situation turns a little bit more complex when taken to countries with a low-basic income. For example, in Tanzania, the country with the highest expenditure on water in Figure 3, around 10% of the population spends over 5% of their budget to purchase water from a tanker/water vendor to cover their needs [2]. In Tanzania, 80% of the population lives on less than 3.20 USD per day[4].
This perspective has been considered by different organizations partnering with non-governmental organizations and private entities to bring water to those in need. In Africa, changes are being seen in Ethiopia, Tanzania, Kenya, Uganda, Ghana, but also India, Bangladesh, Cambodia, Philippines, and Indonesia. Latin America is also experiencing positive changes in Peru, Brazil, and Mexico.
BOSAQ's impact in Suriname
Fortunately, decentralized systems can reach those areas where the potential of centralized facilities comes limited. Decentralized systems can be deployed in remote areas and operate autonomously and without the need for large or expensive infrastructure.
Our project in the Boslanti village of Suriname demonstrates the potential of decentralized systems to provide affordable, reliable, accessible, and high-quality water in adequate quantities to remote communities with freshwater availability, but without proper means to safely upgrade it to drinking quality.
Bringing this basic service to the community was recognized as of vital importance for the Surinamese government to bring development to the inland of Suriname. This is only a sample of the potential that deploying decentralized water systems holds for the world.
Our water experts can help communities to bring this basic service to their lives in a sustainable and resilient way. Our Q-Drop decentralized system is capable of converting water from any source into safe drinking water wherever needed at minimal impact.
References
[1] 'Brazil's Water Crisis - Water In Brazil 2020', Water.org. https://water.org/our-impact/where-we-work/brazil/ (accessed Apr. 28, 2021).
[2] 'Safely managed drinking water - thematic report on drinking water', World Health Organization, Geneva - Switzerland, 2017. Accessed: Apr. 27, 2021. [Online]. Available: https://data.unicef.org/resources/safely-managed-drinking-water/.
[3] J. J. Goddard, I. Ray, and C. Balazs, 'Water affordability and human right to water implications in California', PLOS ONE, vol. 16, no. 1, p. e0245237, Jan. 2021, doi: 10.1371/journal.pone.0245237.
[4] 'Tanzania's Water Crisis - Tanzania's Water In 2020', Water.org. https://water.org/our-impact/where-we-work/tanzania/ (accessed May 03, 2021).